The Last Large U.S. One-Cent Coins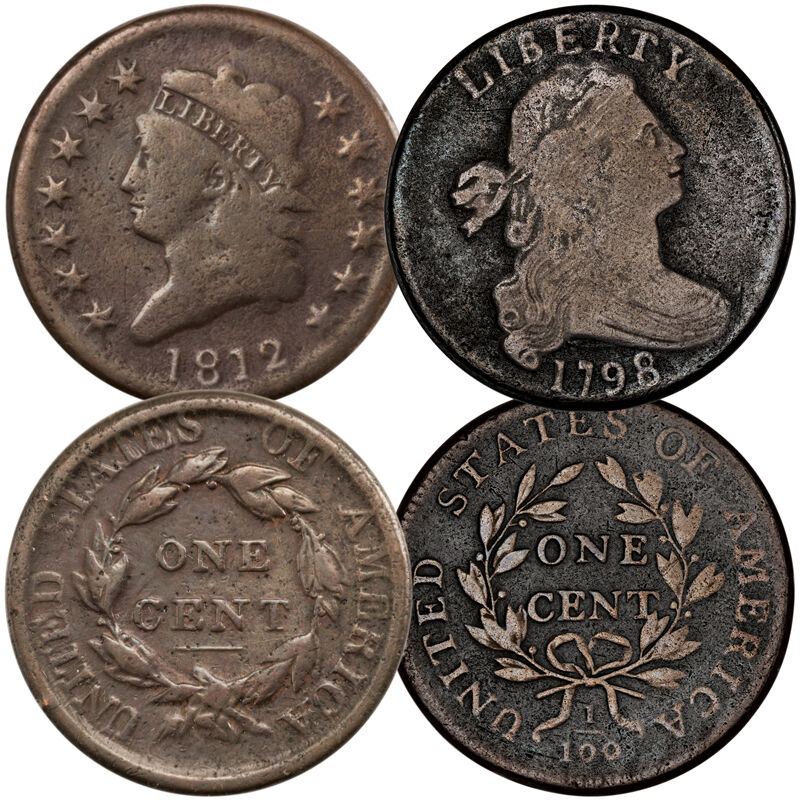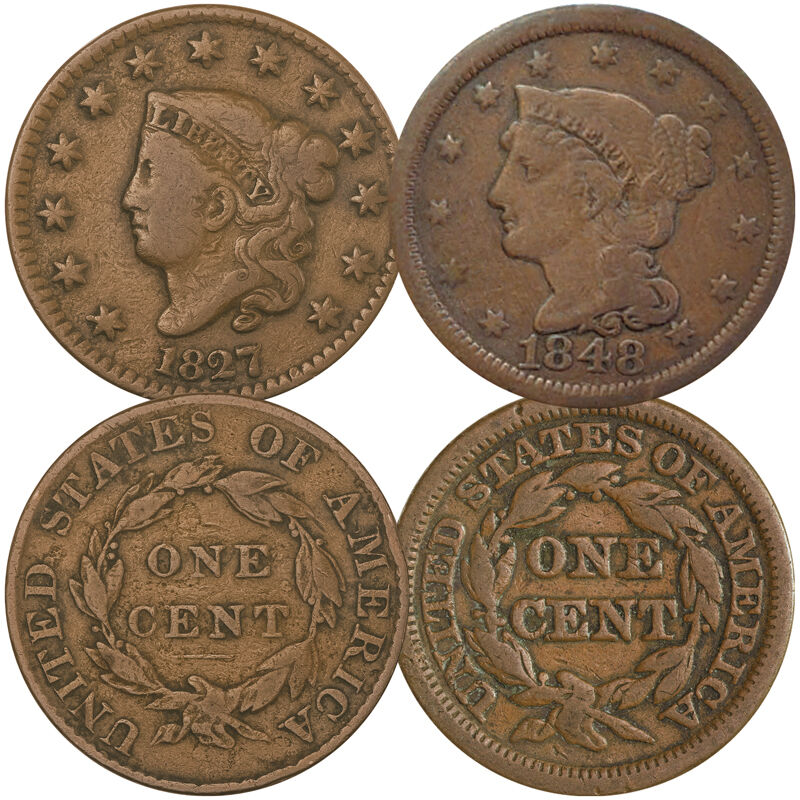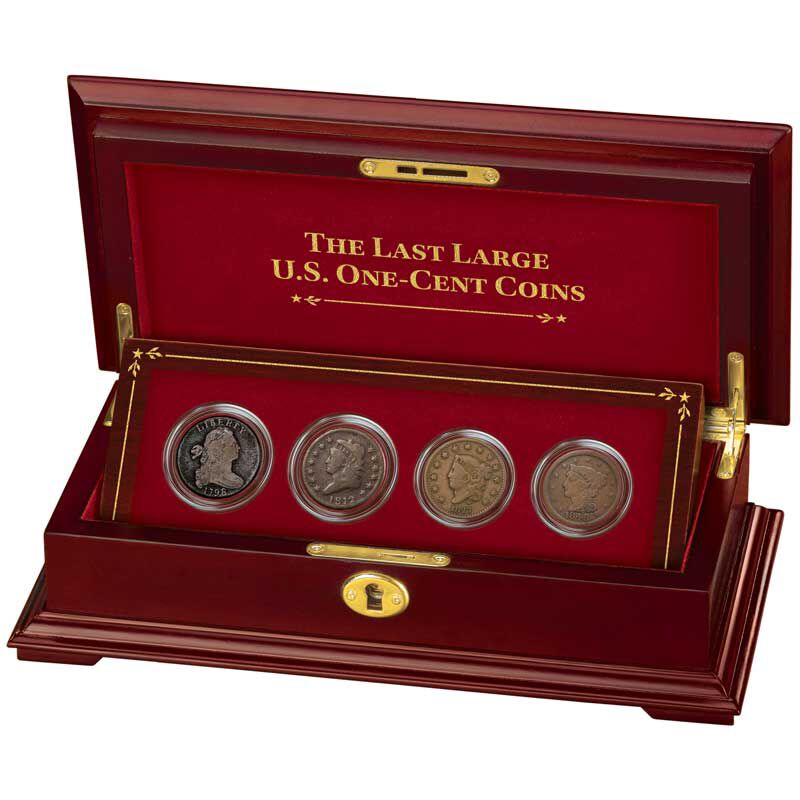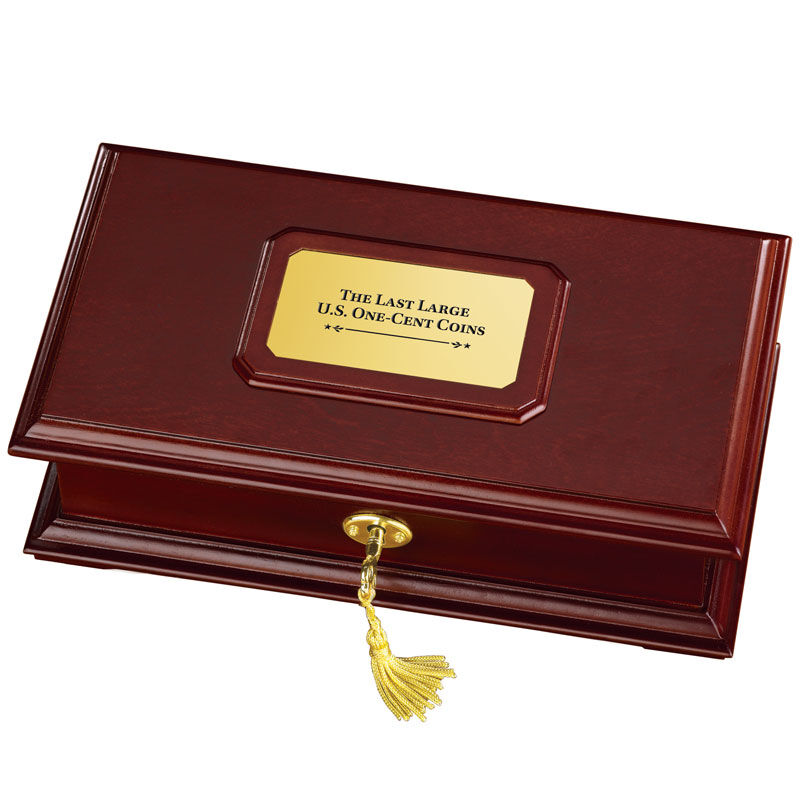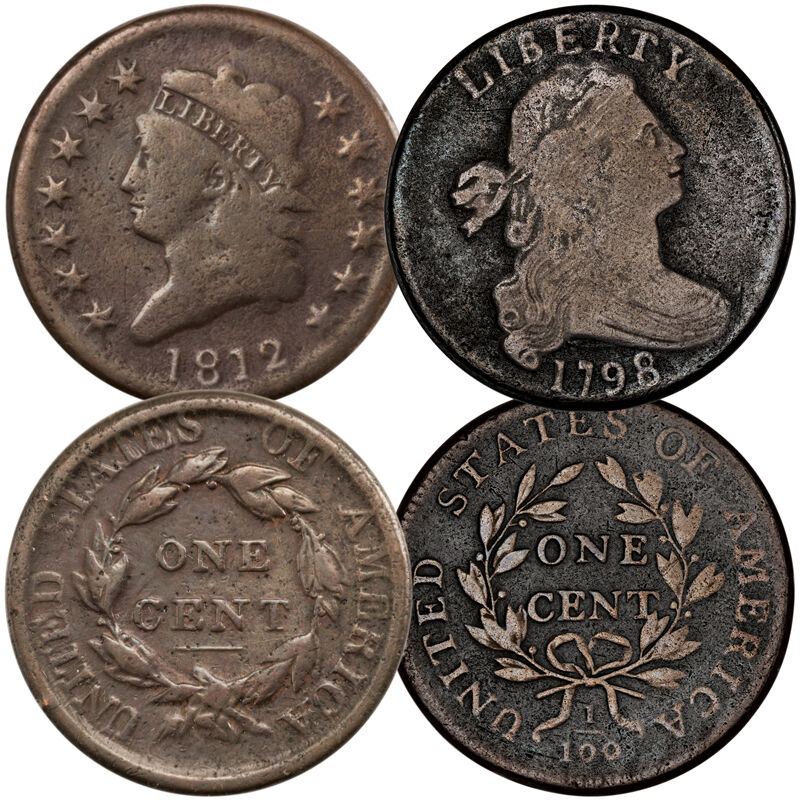 Rarely seen coins dating back to the early 1800's…
All four large cent designs, including:
• Draped Bust. Designed by Robert Scot, the U.S. Mint's first Chief Engraver, it features the denomination spelled out and as a fraction of a silver dollar (1/100).
• Classic Head. The lowest-mintage large cent made in the 1800's, and the first one-cent coin to feature Liberty surrounded by 13 stars, representing the original states.
• Coronet Head. Briefly suspended after the War of 1812, production of large cents resumed in 1816 with Scot's spectacular Liberty — the symbol of America.
• Braided Hair. The last large one-cent coin in U.S. history, Christian Gobrecht's youthful Liberty design was last made in 1857.
• Coins that disappeared from circulation more than 150 years ago, rarely seen outside of fine museums and prestigious private collections.
• Presented in circulated condition, with the major design details intact.
• FREE: A Display Chest and Collector's Guide, yours at no extra charge, sent with the second shipment.
• Guarantee of Satisfaction: Free returns and you may cancel at any time.

Show Less
Show More
Ships in 2-4 weeks.
$279
per shipment
Each shipment is payable in 3 monthly installments of $96.00
Each issued more than 150 years ago, The Last Large U.S. One-Cent Coins forms a collectible of beauty, meaning and importance. This collection allows you the convenience of building it item-by-item with a gradual payment and shipment plan: The Coronet Head and Braided Hair coins will be sent in the first shipment, while the Draped Bust and Classic Head coins will be shipped individually. Shipments will be made at the rate of one every three months (three total shipments in this collection). You can pay for each shipment in three monthly installments.

These historic coins are protectively encapsulated for safe handling and easy viewing of both sides. Please note: The coins shown here are for illustrative purposes only; the exact appearance and years of issue of the coins you receive may vary from the images shown.

The deluxe wooden Display Chest (measuring 9¼" x 4¾" x 2¾") and Collector's Guide, with captivating narrative about the history and designs of your coins, will be sent free of charge with your second shipment.

Your satisfaction is 100% guaranteed. You may return any shipment within 30 days for replacement, or for a full refund with no further obligation. You may cancel at any time by calling the toll-free number included with each shipment, or by accessing My Account online. Either party may cancel this agreement at any time. Price is subject to possible adjustment due to unusual market conditions.